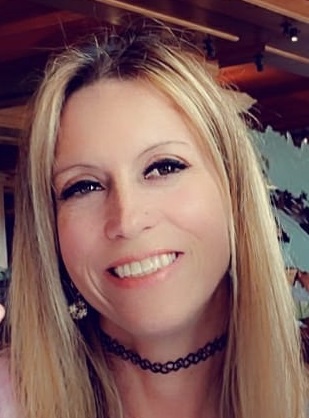 My poetry comes from the heart and
reflects my journey as a woman through
the uncertainty of love; from passion to
heartache, hurt to healing and
powerlessness to empowerment
and finding the strength and courage
to love again.
Rachel Ella Richardson
*
To all the lovers in the world and to anyone
who has ever had their heart broken and
thought they could never love again.
*
My Poems
Under
Meet me under
the moonlight sky;
we'll dance in a way
that only the stars understand.
Meet me under
the willow tree;
we'll share a secret
as old as time.
Meet me under
a blanket of flowers;
we'll lose ourselves in
the essence of love.
---
Ecstasy
You love me
perfectly.
---
Sun
When
I
leave
your side
it's like
the parting of the sun.
I look forward to
a time
when
I will never have
to watch
another
sunrise or sunset
without
you.
---
Love Is
Love
isn't
a flower
that
blossoms in the spring.
Love is
a rose
that
continues to bloom
through winter's
harsh and lonely nights.
Love is a beautiful garden
where a thousand
flowers can be found
but only two find
each other.
I vow from this day forward
to
always be your rose
and love you
on
winter's coldest night
and
on
spring's warmest day.
That is how
you will know
that my love
will always bloom
for you.
---
Robin
Wounded
and
begging
for respite from your own
misery and self-pity.
You spoke of
virtue
but the wings of
truth and respect
had long since taken flight
and
vices of steel coils and
deception and greed
were now your hosts.

I wish to leave you,
in
your current state
as
I never did care much for
wounded birds.
---
Love Light
You will meet someone
who lives amongst
the sun.
In the meantime
stop associating
with
shadows.
---
Flourish
I planted you
like a scarlet rosebud in the soil,
like the earth beneath my fingertips.
I can't wait to see you grow
and watch your beauty unfold.
---
Heartbeat
Tonight I will wear nothing
but magnolias
in my hair
as your cosmic sun-dance
eyes drink in
every inch
of my skin;
the moon is swimming
with every heartbeat
of mine.
Tonight
is made for lovers.
---
You
Put your head
on my shoulder
and
tell me
who you are.
---
Forever
As gentle as an evening rose
before the break of dawn,
for summer always seems to take
forever
when the one you love
is gone.
Vows of the Moon to Her Sun
"I promise to always be your moon," she said
as she closed her soft white glow
around
her stars
for the last time that evening.
She waited all night to see the sun,
for to catch a quick
glimpse of the bright orb
would be all she needed to sustain herself
another night.
And as she drifted into the morning's light
she imagined herself to be
a yellow sunflower
basking in the warmth
of the rays of her sun.
---
Vows of the Sun to His Moon
A deep ray caught the morning sky.
"I promise to always be your sunshine
and your light," said the sun,
for he was thinking of his sweet moon.
"Oh, how I wish you were a sunflower;
you could spend all day
basking in my light,
and I'd pass the time
admiring your beauty."
Instead, he made a vow
that only a sun can make.
"I vow to guide your way
even
in the eve of the night,
for all the stars
that shine
in the evening sky
are there to watch over you,
keep you safe and shining bright,
for you shall
always be
my sweetest moonlight delight."
The sun turned his warm beam
towards a beautiful field of sunflowers and imagined his
sweet moon
was amongst them.
---
I Wish
My heart will always miss you.
My eyes will always look for you.
My hand will always long for yours.
I wish I could have loved you longer.
---
Golden Hour
When you wouldn't
even
give me
the time of day,
how did I end up giving
you
all my
sunrises and sunsets?
---
The Way We Were
A heartbeat
a handshake
a long embrace
smooth lips
and sliding hips
soothing words
and soft promises
make their way inside my mind.
---
How to Spot the One
You know a heartache is on the horizon
when the only thing you can think about
is the soothing sound of
his voice
and the gentle touch of
his hand
meeting yours.
---
You Are Precious and You Are Loved
You are precious and you are loved;
not like some winged bird
loved only for its wings
or for the gift of flight.
You are precious and you are loved;
like a lover
who would do anything
to be by your side
and admire the rise and fall of
your breath,
as it leaves the chambers of your lungs.
You are precious and you are loved;
not like a lion
who's love is born
out of the fear of others
who wants to remain alive for the last time.
You are precious and you are loved;
like a man who realizes that he
is
in fact
in love
for the first time
with a woman
who is happy to watch the fire
in his eyes
dance all night long.
---
A Promise to the Ocean
Each
wave of
hurt
brings me
closer to the shores
of love.
---
River
There is now a river between us.
I don't know how we got here.
In between the roses of love
grew brambles and sharp thorns.
No love
can
live here.
---
Joker
Let me not be fooled
again
by
love.
---
Seas
A mermaid
and a man;
fingers of flesh
tail of a fin.
He always was
enchanted
by her seas
and she
by his land.
Though
no matter how they might try
scales cannot love skin.
---
Tonight
Moon beam haze
and
starlight gaze
be my soft warm glow tonight.
Wrap my hair in jasmine
and
lay
scarlet roses at my feet.
Tonight
I am a woman
in
love.
---
Two Paths
One day you will tell me
all the things I want to hear.
One day you will pronounce
your love for me;
tell me that
I am
the most beautiful woman
you have ever seen.
One day you will decide
that you never want to spend another
hour without my soft skin against your hand.
I am yours forever
in all the seconds of moments
in time.
Stay the course and see
where we lead each other
in love.
---
This Is Not the End
I promise.
This is not the end.
It might not feel
as if
there is a reason
why,
right
now.
It might feel
that there
is no hope.

But I promise;
you have every
reason to
rise and live
another day,
for in tomorrow,
lies a new
beginning.
---
How
When the love is gone
how will I learn to love again?
When life is so hard
how do I survive?
When you said,
no
to me
how did I end up saying, yes?
When you are my heart
how will I learn to live without you?
---
Caught
When you find yourself getting caught
between
the devil and the deep blue sea,
remember that there is
so much
beauty in the world
that goes unseen.
Always search for what you love in life
and
what makes
you
happy.
---
Moments
Falling in love
with
all the moments
we
share together
keeps me
falling in love
over
and
over again.
---
Silver Ties
You made me
feel like
a sweet glass of
velvet
wine,
with notes of
cherry.
Lips
budding at the
chance to linger
on my skin;
your winding
words moving
through my
eager heart.
You are an old
vine.
---
Midnight
My tears
are always
trying to find
their
true selves.
---
Wave
I feel so much
of who we could
have been;
two wild
horses
running across
the shores.
But the sad truth
is,
we mixed
together
like sugar and
sand.
---
Fractured Love
I don't want
a fractured love.
I want a love
as deep as the ocean.
I want a love
that is willing to drown me;
gasping
for
air
and
bring me back
to life
all in the same breath.
---
Your Love in Life
I will
always be
your love in life,
for a thousand times
my heart
dreamed
of yours
before we even met.
I will
always be
your love in life
for
my soul
knew yours
in the same way
the moon
knows the stars.
I will
always be
your love in life
for
I want no one else in
this lifetime
to call mine
but
you.
---
Trails
The last time
I saw you
was in May,
clutching a field of wildflowers
in my hand
trying my hardest
to hold onto
a love
that I knew was never really
mine.
As the tiger lily sunset fades
deep into the night
violet tears run down my face;
knowing
now
that even
love
runs out of time.
---
I Miss You
I know
there
is
no more
us,
but I miss
the way
you
used
to make
me
feel.
---
Move On
Static pictures
run
through
my mind
of the last time
I was with you.
Wild mustangs
race
through
my heart
whenever I
think of you.
I am tired
of you
running and
racing
through my soul.
---
Fantasy
I will always be in
love
with
the dream
of what
could have been.
But
you
live off alabaster
lies
cloaked
in a life of sin.
---
Summertime Love
A summer breeze drifts through my window
and I know
you are here with me.
Sensuality
is the key.
Turn me over and over and over again.
Lock me deep in
the chambers
of
your heart.
Am I your secret to keep away
and unlock
whenever
you find
your
pink desires
are too much to bear?
Skin on skin
wind to wind.
I was never yours.
And,
like a soft summer breeze
I am gone again.
---
Thorns
As I pull my rose-colored bedding
from my mattress
I am reminded of the last time I pulled you
into bed.
As I lay myself down to sleep
I pray this queen has the strength to never let
that joker into her chambers again.
I will slumber deep
and dream of my king.
Roses are beautiful,
but their thorns can be deadly.
---
My King
You feel like sunshine
on a warm day in May.
Your touch could heal
the darkest demons
of my soul.
Your love flows
through me
like the sweet perfume of jasmine
on a summer's night.
I know you are out there
in the universe
my king.
Your queen is waiting for you.
Then There Was Love
I don't want electricity,
for love
is all the power
I need.
---
Golden Days
Reach for your dreams.
They are on the other side
where the butterflies live.
Amber wings spread out;
soft lilies cradle me
as I soar through
the wild ceaon
Let each dewdrop flower
be my friend
and a spindled cloud
be my guide.
I want to be a butterfly.
---
I Met You in Summertime
Bold sunflowers
basking
in their golden days;
green earth mounts
and
cool blue skies
rule the day.
In this moment
cherry lips and soft amber hair
unite my heart with yours.
Summertime love is easy to find.
Your words seduce me and tell me everything
I will ever need to know.
A warm hand moves to mine
and lovers know the rest.
Tell me why
summertime love
is better left undressed.
---
I Forgive You
To take someone
who you
thought
was
a
lover
but
was really
a
sinner.
I forgive you.
---
Absence of Nothing
He longed for a clarity and a vision
that would never come
for when we cast our minds in darkness
we forget how to be of the light.
His senses were dulled by a veil
of black and gray
which clouded him.
He could not see the one standing before him
who would restore his sight.
---
Bloom
You are not a just flower,
for a flower only blooms once.
The scarlet buds will eventually wilt
and
their time will expire.
You are a beautiful garden
full of flowers
and
the sweet nectar of life.
You will bloom
many times
in this
lifetime
and
only you can choose
where you want to be planted.
---
Home
Marry someone
who has
the heart
of a
tree.
Lush emerald
leaves;
their rustling
promise
to always
listen to you.
Branches wrap
around you;
an oath
to always stand
by your side.
A knight of
timber.
A prince of the
woods.
A king among all
forests.
Marry someone
who has
the heart
of a
tree.
---
Vibe
Current mood:
peaceful
---
Guilty
Do you see me as I see you?
As a god.
As an emperor.
As a savior.
Am I your goddess?
Your queen?
Your saint?
How can you be
my
savior
when all we do
is sin?
---
Letting Go
When the last evening lark
sings its song for the night
and the first star
glimmers in the sky,
I know you are no longer mine.
---
Love Me True and Love Me Long
I long to feel your warm touch
move across my hand.
Your full lips are blushing
and I am not a shy woman.
When it's just you and I
and we are tangled up together
getting lost in heavy breaths and
promises
that I know
neither
of us is going to keep,
I feel like
a
scarred lover.
---
Remember Who You Are
Beautiful woman
let me
tell you who you are
in case
your mother never told you,
when you were a little girl
at night
before she
tucked you into bed.
Being a woman
is
a
gift
more sacred than
any
diamond or gold trinket.
I will tell you
a secret
more ancient
than the oldest grain of sand.
Know your
regal power.
You
are
a Queen.
Feel your
inner love.
You
are
a Goddess.
Sense your
divine strength.
You are
a Warrior.
This is who
you
have
always been.
This is what you will demand
and why
you will not settle
for
anything
less.
It is
your birthright;
Woman.
---
New Dawn
In the cool dawn of the morning
she remembered
who
she
was
and left behind
all that she
had
been.
Rise now.
It is
your
time.
---
Goddess Status

You know you are a true goddess
when
you can bask in the bliss of the gorgeous nectar of a peach
allowing it's plump sweet fruit to nourish your body.
k
You know you are a goddess
when
your favorite song comes on
and you allow its musical waves
to fill your ears and mind with sensual delight.

You know you are a goddess
when
you find the perfect dress to wear
and you can walk proudly
holding your head high
knowing you are embracing your divine femininity.
You know you are a goodness
when
you can say
no
to anyone who doesn't treat you
with love
respect
and honor.
Find your inner goodness
and
make her your priority
every
day!
---
Good Morning Beautiful One
Today
will you choose to be a
tidal wave?
Salty fingertips grabbing a life you know you are owed.
A furious crash transcending
every room you enter
letting every
urchin and barnacle
know
that
you
are here to stay.
Mermaid tendril hair
communes with starfish
telling them your
hopes and dreams
while an unwavering convoy
of
fanciful delight
glides across the calm ocean waters
waiting a reply from the sea.
I hear
a
"Yes you may."
Today
I will be
a
tidal wave.
---
Speak This Now
To all my girls
who would be princesses,
to all my ladies
who grew
up to be queens,
speak this now
and feel it from the depths of your soul.
You deserve better,
the best.
They say the best is yet to come.
Well here you are
watching, waiting and yearning
for a better life than the one you have now.
Will a cool wind set forth your dreams
on a luminous cloud set deep in the sun?
Will the moon beam haze drift your desires into a restful chamber
of blissful slumber?
Will you then awaken to have your fantasies laid before you on a silver platter?
You must
be it
will it
create it.

Like a flower bursts from a tiny seed
in the earth
so you must unearth your deepest fantasies.
Call it
into creation
into essence
into light
into form.
From this moment on
this is how
you will run your life.
Speak it.
Will it.
Be it.
My golden one,
your deepest request
is being answered.
All you have to do
is will it forward
and
call it in.
It just is.
---
Your Time
A gold crown
is placed on her head.
Rubies and diamonds adorn its golden house.
Long radiant hair surrounds it
like angels in a cathedral.
Rise now.
It
is your
time to
lead,
Queen.
---
Sweet Child Inside
Sweet one
I choose to heal
to release
any negative energy
from my soul.
I take back
my power.
I know my own right.
I decide
who
I allow into my life
and
what kind of life
I want to have.
You are in charge
of your destiny sweet one.
The time is NOW.
---
Make a Wish
You can't lie to the moon.
She knows
every
saint's
secret lust
and
every sinner's
darkest desire;
a serene kiss
from a
silver-tongued lover
with stardust
in your eyes.
Make a wish.
---
Lead
Recalling what it's like;
so heart-broken beyond words.
Understanding that the past
is what followed me
to the future.
Acceptance for the present;
it's so hard to be alone.
Absence is the prize of loss.
Resentment is a close second.
Recalling what it's like
to open hearts and know
that tomorrow
may be not mean today
that yesterday is gone
and all we have is time
and what we want when morning comes
and who we need as the sun shines
through our window.
Be my way.
---
Divine Love
Love me with a
soft touch;
the way a
pianist's
fingertips
lovingly
graze
its black and
ivory keys.
The way an
angelic prophet
speaks words
of truth and
wisdom that
make you feel
safe when
you have been
afraid
for so long.
Love me the way
a gardener
carefully clips his roses
and delicately
places them into
a vase,
with
fresh water
and
sunlight to
thrive.
The way a
painter strokes
his
brush
across
the canvas
and watches the
colors fly.
Love me the way
a singer
sings those
sweet
notes
that make you
feel young again
and like you just
cannot stop
dancing.
Now THAT
is a love
worth
waiting for!
Witing
I want
a
viscous love.
---
Almost Everything
On a stranded edge
waking only to find that I was in a haze
still dreaming of a day
I could be something to some
and everything to one.
You're still living life
like a bladed weapon
holding in on your chance to beam bright.
If I'm something
think of me
as a star
that glimmers in the deep dark sky.
For a short time I'll light your way
but I'll burn out one day.
If I'm everything,
then I'm a warm filtered light
that grazes your skin
and flutters through your eyes.
That's just light's way of letting you know
that I will always shine.
---
A Rose's Word of Wisdom
Pink and lavender
Sweet pea blossoms rise up
and perfume the sky
with their floral aroma.
A single fuzzy honey bee
circles the garden.
He rounds at each rose
in search of
the flower
with the most potent nectar.
Let this be a healing to all men:
Your woman
is not just another pretty flower
growing in a garden
grown only for you to
pluck and replace
with a new bright bloom
once her petals start to fade.
Get to know her essence
and you will come to
understand
what makes her
soul sway in the wind
and
her heart bloom
like
the
wild rose she is.
---
A Rosebud's Vow
A rosebud made a vow
to never
open her petals
to the warmth
of the sun
for fear
she might learn to
live, love and perish
all in a season's time.
---
Love
Wild vines live in
your veins.
Jade green
stems
and
soft feathered
leaves
wind
their way to your
heart
where a single
flaming rose
blooms.
This
is why
I love you.
---
Walk Two Moons
If we all run out of hope
one day,
pretend love doesn't exist,
turn my face away,
Refuse your kiss.
If we all run on empty
movin' forward on a prayer,
hold onto the past,
act like my heart just ain't there.
Walk two moons.
Climb down that dusty road
take my shoes,
make them your own.
Walk two moons.
Shed your skin,
tell those lights it's okay
to go down dim;
you know the way home anyway.
Walk two moons
one day.
---
Onward
I am willing to look past it
and love
all over again.
---
About Me
I live in Santa Cruz, California with my English Spot rabbit, Domino, and enjoy writing poetry, drawing, painting, yoga, walking on the beach, hiking and picking flowers. I studied Art at the California College of the Arts in Oakland, California and received a BS in Psychology from California State University, Monterey Bay. I work in the field of mental health with elder adults, as a social worker.
email me at Rachel@RachelEllaRichardson.com